FLASH SALE - 20% OFF EVERYTHING
Use Code: SEPT20 - Sale Ends Sept 29th
---
CBD Capsules & Tablets
The CBD capsules and tablets are made with high-quality, locally-sourced hemp extract and are free of any harmful additives, chemicals or contaminants. Our unique blend of natural ingredients makes our capsules an ideal choice for anyone seeking a convenient, discreet and effective way to experience the therapeutic benefits of CBD.
Our soft gels are also made with a fast-acting formula, so you can quickly feel the effects of CBD, whether you're using it for pain relief, stress relief, or just to improve your overall sense of well-being.
At Well Care Botanicals, we're dedicated to providing our customers with the finest, most effective CBD products on the market. Whether you're looking for tinctures, creams, or capsules, we have the perfect CBD solution to help you achieve your daily health and wellness goals.
---
Lab Tested for Purity and Quality
Our CBD Capsules and tablets undergo rigorous lab testing for purity and potency, ensuring that each bottle you receive is of the highest quality. We take every step to ensure that our products are safe, effective, and free from contaminants, giving you peace of mind when you consume our hemp soft gels.
Easy Dosing and Convenient Packaging
With pre-measured doses of 10mg to 30mg per capsule, our hemp gel capsules are convenient for on-the-go use and make it easy for you to keep track of your daily CBD intake. The compact and convenient packaging also makes it easy to carry with you wherever you go.
At Well Care Botanicals, we are committed to providing you with the highest quality hemp products, and our CBD Capsules and Tablets are no exception. Whether you're looking for a fast-acting, on-the-go solution or a convenient alternative to tincture oils, our hemp gel capsules offer the perfect solution.
Hemp Extract Soft Gel Capsules - 900MG Full-Spectrum CBD, CBG, CBC and CBDA blend  Our...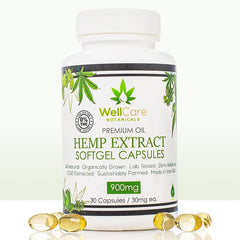 Hemp Extract Soft Gel Capsules - 900MG CBD Isolate Supplement These hemp extract soft g...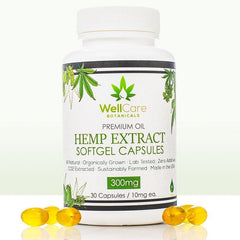 Hemp Extract Soft Gel Capsules - 300MG Full Spectrum CBD Supplement The Hemp Extract So...
Hemp Extract PM CBD Sleep Tablets - 900mg - Melatonin and Chamomile Our Hemp Extract PM...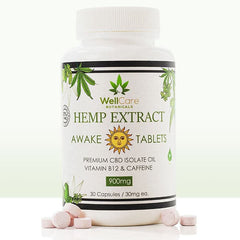 CBD AM Awake Tablets with Vitamin B12 & Caffeine Our CBD AM Awake Tablets with Vit...
Well Care Botanicals Gift Card WellCareBotanicals.com Gift Cards never expire and ca...