1000MG Hemp Oil Pain Creams & Gels
1000MG Hemp Oil Pain Creams & Gels
Indulge in the natural pain-relieving benefits of hemp extract with our 1000MG Hemp Oil CBD Pain Creams & Gels. Our expertly-crafted formulas feature Broad Spectrum Hemp Oil Extract and a selection of botanical extracts to provide an all-natural and enduring solution for various kinds of aches, soreness, and pain. Unlike typical pain-relief balms and sprays that offer only temporary relief by masking the pain, our hemp extract deeply penetrates the skin and muscle layers to address pain and discomfort at the source.
Our pain relief creams are also infused with a blend of organic, hydrating oils and plant extracts that help keep your skin feeling moisturized and healthier too. So not only will you experience effective pain relief, but your skin will also feel revitalized and refreshed. Choose from our range of options to find the perfect solution to suit your needs.
---
Benefits
Made with pure Hemp extract
Our advanced CO2 extraction process ensures that the hemp extract is unadulterated and potent. With at least 1000mg of Hemp extract in every formulation, our Hemp creams and gels offer the right dosage for ultimate relief from any kind of body pain.
Fast-acting formula
Get the immediate, soothing relief and warming sensation you need with our quick-absorbing gel and cream formula. So you don't just feel instant relief, but it also allows you to get on with your day-to-day activities with greater ease too.
Non-sticky and easy to apply
Unlike thick, greasy pain-relief balms, our Hemp products for pain are extremely lightweight and quickly smooth into your skin. So you can use them anywhere and anytime without leaving any mess or stickiness behind on your clothes or hands.
Hemp Extract Extra Strength Pain Relief Cream - 1000MG Say goodbye to temporary pain re...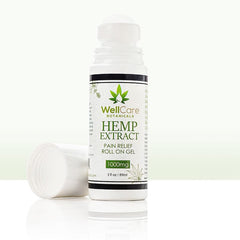 Hemp Extract Pain Relief Roll On Gel - 1000MG Say goodbye to sore muscles and body pain...
Hemp Extract Extra Strength Pain Relief Cream - 1000MG - Airless Pump Say goodbye to pa...
Hemp Extract Extra Strength Pain Relief Gel - 1000MG Don't let sore muscles and body pa...