4000MG Hemp Oil Pain Cream - Max Strength
4000MG Max Strength Hemp Oil CBD Pain Cream
Introducing our most potent formula yet – Max Strength Hemp Pain Cream with 4000MG of Broad-Spectrum CBD Extract. Our all-natural, enduring solutions are specifically designed to help you discover the full potential of hemp extract's pain-relieving benefits. Unlike conventional balms and sprays, our cream works deep within the skin and muscle layers to provide long-lasting relief from pain and discomfort.
All our pain creams are expertly crafted with a blend of organic, hydrating oils and plant extracts, carefully selected to enhance the effectiveness of the hemp extract. Not only do they soothe and nourish your skin, but they also provide targeted relief from muscle soreness, joint pain, and other aches. 
---
Benefits
Made with pure Hemp extract
Our advanced CO2 extraction process ensures that the hemp extract is unadulterated and potent, with 4000mg of CBD in every jar. This provides the right dosage for ultimate relief from any kind of body pain.
Fast-acting formula
Our quick-absorbing cream formula provides immediate soothing relief. It allows you to get on with your day-to-day activities with greater ease.
Non-sticky and easy to apply
Our Hemp products for pain are extremely lightweight and quickly smooth into your skin without leaving any mess or stickiness behind on your clothes or hands. You can use them anywhere and anytime.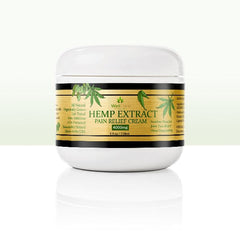 Maximum 2X Relief Hemp Extract Pain Cream - 4000mg Introducing the ultimate solution to...