Hemp Extract AM/PM CBD Tablets
Hemp Extract AM/PM CBD Tablets
Our CBD Tablets offer you the easiest way to experience the therapeutic benefits of CBD.
We also add melatonin, chamomile, caffeine, and Vitamin B12 in select tablets to enhance the benefits of better sleep, focus, relaxation, and pain relief.
Cannabinoids have been widely studied for their pain-relieving, mood-enhancing, and anxiety-relieving benefits. And with our flavor-free tablets you can get all the cannabinoids including CBD, CBG, CBC, and CBDA. The blend of these highly effective extracts is offered in 900mg bottles, each including 30 soft gel capsules (30mg per tablet).
---
CBD PM Sleep Tablets
Wind down and drift off naturally into a deep sleep with our CBD Sleep Tablets, specially crafted to give you a better night's sleep. Our sugar-free tablets can help improve the overall quality of sleep and alleviate some of the causes of insomnia. 
CBD AM Awake Tablets
Don't let that tired morning feeling stop you from making the most of your day – feel reinvigorated courtesy of our CBD Awake Tablets. These uncoated, sugar-free energy tablets contain energizing caffeine to give you a natural boost. 
Hemp Extract PM CBD Sleep Tablets - 900mg - Melatonin and Chamomile Our Hemp Extract PM...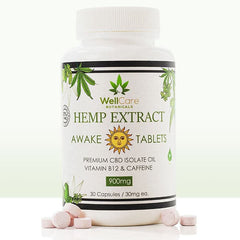 CBD AM Awake Tablets with Vitamin B12 & Caffeine Our CBD AM Awake Tablets with Vit...
Hemp Extract Sleep Gummies Mixed Berry - Melatonin and CBN - 900MG Introducing our deli...