Hemp Extract Soft Gel CBD Capsules
Hemp Extract Soft Gel CBD Capsules
Our CBD Capsules offer you the easiest way to experience the therapeutic benefits of CBD.
Cannabinoids have been widely studied for their pain-relieving, mood-enhancing, and anxiety-relieving benefits. And with our flavor-free soft gels, you can get all the cannabinoids including CBD, CBG, CBC, and CBDA. The blend of these highly-effective extracts is offered in 300mg and 900gm bottles, each including 30 soft gel capsules (10mg to 30mg per capsule).
---
The Perfect Tincture Alternative
You don't need to go through the bitter, distasteful tincture oils, nor deal with the ordeal of consuming them. With our line of tasteless soft gels, getting your dose of CBD is as easy as swallowing a capsule with water. They are easy to swallow and come without any aftertaste.
Full Spectrum and Isolate CBD
Our soft gels are made using a blend of full-spectrum CBD oils and isolates. So you get the most beneficial parts of the plant for the best results. We do not add any chemicals, solvents, or sweeteners either. What you get is the highest quality extracts straight from the plant.
Non-Psychoactive
Whether you're trying to relax and improve your mood, or feel awake and refreshed, our hemp gel capsules let you consume CBD without bringing any attention—unlike tinctures. And with low traces of THC, you won't have to worry about getting high either.
Hemp Extract Soft Gel Capsules - 900MG Full-Spectrum CBD, CBG, CBC and CBDA blend  Our...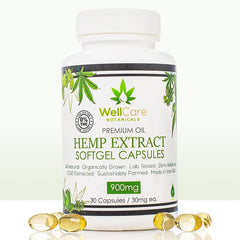 Hemp Extract Soft Gel Capsules - 900MG CBD Isolate Supplement These hemp extract soft g...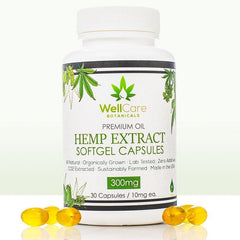 Hemp Extract Soft Gel Capsules - 300MG Full Spectrum CBD Supplement The Hemp Extract So...