1800MG Hemp Extract Oil CBD Tinctures
1800MG Hemp CBD Oil Tinctures
Hemp CBD Oil Tinctures administer concentrated levels of CBD. It can be consumed sublingually or mixed with water. The quick-absorbing and bioavailable CBD extracts in the oil allow you to experience the effects much faster than the slow-release action of capsules and tablets. Made using a blend of MCT oil and full-spectrum CBD sourced from locally grown hemp, our tinctures relax your mind, keep you alert, relieve your pain and make you feel good.
---
Plenty of Benefits
CBD oil is widely used for its ability to numb pain receptors in the brain to manage aches and pains. The broad-spectrum tincture oil also helps soothe your nerves, improve focus and reduce restlessness. With no psychoactive effects or jitters, CBD tinctures are a great everyday supplement for wellness and nourishment.
Flavored and Unflavored
Not everyone enjoys the taste of raw CBD tincture. That's why our hemp oil is also available in a refreshingly minty Wintergreen or citrusy Lemon/Lime flavors. 
Lab Tested and Certified
We harvest our hemp and process it using CO2 extraction to ensure the highest levels of purity—without any solvents, residue, pesticides, or chemicals. Our CBD Oil is tested by reputed chemists and certified for its highest grade of quality, potency, and purity. When you buy from Well Care Botanicals, you are assured to get the finest CBD Oil Tinctures on the market.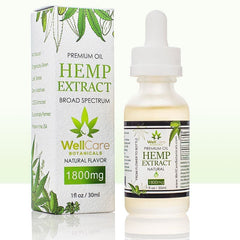 Hemp Extract Oil - 1800MG Broad Spectrum Supplement - Natural Unflavored Feeling overwh...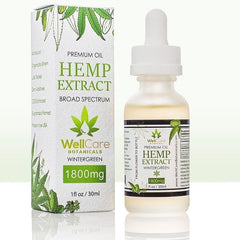 Hemp Extract Oil - 1800MG Broad Spectrum Supplement - Wintergreen Feeling overwhelmed b...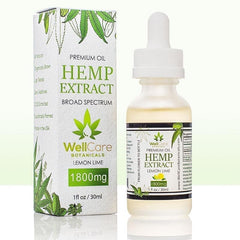 Hemp Extract Oil - 1800MG Broad Spectrum Supplement - Lemon Lime Feeling overwhelmed by...